BECAUSE SO MANY OF MY FRIENDS HAVE ASKED ME
TO SUGGEST RECORDINGS THAT I FIND SUPERIOR,
THESE ARE PAGES ON WHICH...


Albums highlighted above can be purchased directly from



Click on album covers to get price and ordering information.
Click on "Grover's Notes" for his annotations to the albums.
---
"October Project is probably the only contemporary band to combine the timeless elements of richly romantic lyrics, full vocal harmonies and lush arrangements in the context of what is still essentially a very potent rock ensemble.... truly a unique and inspired treasure."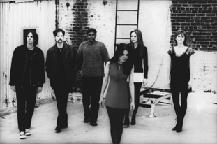 Mary Fahl -- Lead Vocals
David Sabatino -- Guitars, Vocals
Emil Adler -- Piano & Keyboards, Vocals
Urbano Sanchez -- Percussion
Julie Flanders -- Lyrics
Marina Belica -- Vocals, Keyboards
---
Link here to my pages providing commentary and information on October Project:
My annotations for October Project album
My annotations for Falling Farther In album
General information and links about the group

---
EMAIL GROVER PROCTOR