BECAUSE SO MANY OF MY FRIENDS HAVE ASKED ME
TO SUGGEST RECORDINGS THAT I FIND SUPERIOR,
THESE ARE PAGES ON WHICH...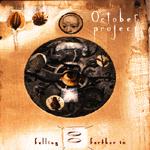 OCTOBER PROJECT:
FALLING FARTHER IN
(1995)

This album can be purchased directly from



Click on album cover to get price and ordering information.
A brief appreciative annotation by Grover B. Proctor, Jr.
This is the second and last album made by this stunning group before its demise in 1996. If the first album was yearning, sensual, and mystic, this one is romantic, symbolic, with more of an edge, and if anything better produced than its predecessor. Peter Collins (who also produced the Indigo Girls) has produced an album with depth, clean lines, full sound, and a clarity that is refreshing.
Reading and listening to the poetry of Julie Flanders makes me shake my head and wonder how such profound views of life and love can spring from someone so young. Mary Fahl's and Marina Belica's vocals are haunting and immediate, and both voices and poetry are in service to the enjoyable and deep qualities of Emil Adler's masterful songs.
Six of the arrangements on this album feature a small string section, which is beautifully and sensitively woven into the fabric of the songs, rather than being (as so many pop string arrangments are) a foreign element overlaid on top which can sound so contrived. The last cut, If I Could, may be the most perfect little long song ever put on record.
Here is a listing of the songs, with representative selections from the lyrics of each:
Deep As You Go

"Somehow I need to love you more than I need to breathe. I can feel you leaving the ground; I will follow down. You and I will drown."

Something More Than This

"In the shadow cast as you were leaving, in the beauty of the ending day, there is always something to believe in, something as I watch you slip away. I need no shelter. I need to guide. I'll be alone on this long dark ride tonight."

Sunday Morning Yellow Sky

"He can see the face of a lover in the lonely face of the angel above him, carved into the stone that is changing around him. He can feel her breathing inside him, and the unforgiving visions deny him. Life can only be what a man can make it."

Adam & Eve

"Burning like a fever inside you, the heat of your skin and the taste of your lips; a shadow, a storm, a darkening sky; the reason you live, the secret you hide." ... "I've fallen from all I know to keep you here. I need you here. I wonder how far to go without you here."

Johnny

"She was pretty as a picture, shining in a window; everybody said so. What did Johnny have to give her, Johnny in a small town. Putting on a suit he had borrowed, knowing she would probably leave him tomorrow, leave him alone with himself."

Funeral In His Heart

"He had a dream haunting him at night; it would fly into his hands. So he tried to cage it, but he only made it fly away. He heard a song. It was running through his mind; it was singing from ths past. So he tried to sing it, but he found he could not make it last. The world is falling apart. He's getting older, and there's a funeral in his heart."

After The Fall

"In a city of faces that never look back, where doors never open, and eyes never meet, someone behind me was tracing my steps as I ran through the fog down a cobblestone street. In a city of crossroads that never lead home, where secrets unravel, and fates intertwine, someone was calling my name in the night, as I ran from a voice that was echoing mine."

One Dream

"Far too human to let go, I fight the river and the flow; I fight the love and the fear. I do not want to leave you here. In one body you appear, in this dream. I dream, and I still want so much to touch the inside. I dream and I still want to stay inside this dream with you." ... "If I could speak in tongues of flame, I'd burn forever with your name and take it with me through all time. I would remember who you are; in every life I'd touch your heart, in every dream."

Dark Time

"What dark time is coming; what dark time is here? The prophet emerges in garments of fear. He calls to his people to come to the feast. They gather unto him to wait for release. Alleluia. Remember the warnings; forget what you're told. The heart of the temple is hollow and cold. The face of the prophet is tired and creased. He raises his cup and falls to his knees."

Falling Farther In

"From far away I hear my mother crying. The sky is gray. They say the earth is dying. I hear her voice, and still I make a choice to stay. I leave a life behind me. I feel myself begin. I'm reaching out to keep you, falling farther in. I feel the light inside me. You go beyond my skin. I'm reaching out to keep you, falling farther in."

If I Could

"When you feel as if you don't know who you are, I'll remind you with my love. If I could, I would always keep you safe, take you inside into my heart. When you feel as if you simply can't go on, I'll remind you that you're strong. If I could, I would love you as you are, take you inside, into my heart, into my arms, into my life."