BECAUSE SO MANY OF MY FRIENDS HAVE ASKED ME
TO SUGGEST RECORDINGS THAT I FIND SUPERIOR,
THESE ARE PAGES ON WHICH...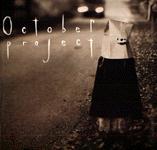 OCTOBER PROJECT:
OCTOBER PROJECT
(1993)

This album can be purchased directly from



Click on album cover to get price and ordering information.
A brief appreciative annotation by Grover B. Proctor, Jr.
This is the first of the two albums October Project made before disbanding in 1996, and with each listening, I find it more and more perfect. There is a depth and quality of musicianship (not to mention of songwriting and arranging and production) that is so very rare in any sort of popular musical culture. Never commercially wildly successful (which led Epic Records to make the musically indefensible decision not to renew their recording contract), the band fused a rock/ballad/pop sound that was hard to categorize but completely satisfying and continually revealing over repeated listenings.
The songs are gems, all written by their resident poet Julie Flanders and composer Emil Adler, and each has a distinctive sound, flavor, arrangement, and feel. Mary Fahl's haunting voice is the unifying factor on all cuts, and the elegant and rich harmonies provided by Marina Belica and other members of the band are stunning. (The last 1:45 of track 10 "Always," starting at the 2:00 minute mark, is probably the finest "choral" pop/rock singing ever put on record.)
Here is a listing of the songs, with representative selections from the lyrics of each:
Bury My Lovely

"Cover the madness; cover the fear. No one will ever know you were here. A figure in the hallway light, returning like a ghost. Something that was left behind, something in a child's mind. A picture worth a thousand lies, a thousand words, a thousand eyes."

Ariel

"Let the wind and ocean water wash across your hands, wash away a thousand footsteps. Wash us all away like sand. The sky has fallen. Now the earth is dry and torn. I know you're tired from the violence of the storm. I love you. I love you, but you are all I know. Forgive me."

Where You Are

"Floating in a summer memory, I can see you in my mind. Know it goes on forever, far beyond us, far behind. Where you are, do you know I think of you? Where you are, do you know? I hope you do."

A Lonely Voice

"I keep looking back, traditions back, across the centuries, in a century where no one can explain: You tell me God is dancing in the rain. I can hear the echo in a maze of words, a lonely voice behind a door. Can you hear me calling from a world away, a lonely voice behind a door?"

Eyes of Mercy

"Hide in my arms, and dream golden dreams, forgetting the world of men and machines. When the soft eyes of mercy are blinded by the dark, I will stay with eyes open, stay here with eyes open, to watch over you and take away the sadness and the fear. I'll be here."

Return To Me

"You rise like a wave in the ocean, and you fall gently back to the sea. Now I want to know how to hold you; return to me. You shine like the moon over water, and you darken the sky when you leave. Now I want to know how to keep you. Return to me; turn to me."

Wall of Silence

"There's a wall of silence miles across, a wall between us holding back, holding back our loss. I've seen that life touches us with pain, and we change, becoming strangers to ourselves. Tell me what happens along the way. How did I lose you along the way?"

Take Me As I Am

"Take me as I am, someone you could know; even as we speak, you could change your mind. Take me while you can. Even if you shine a light into the mirror, you won't see me any clearer."

Now I Lay Me Down

"Out of the silence into the blue, you finally remember where you've been. You finally remember who you are, and you remember the light. Out of the spirit into the flesh, the animal heartbeat in the chest, the naked desire, the appetite. But you remember the light."

Always

"If you have to leave me, leave me with a kiss. Tell me how you feel without words. Are you so afraid to stay? Must you be alone? Let me wake with you by my side, always."

Paths of Desire

"I am the fly who dreams of the spider; the path to the web becomes deeper and wider. I dream of the silk that is tangled inside you, and know that I want to be somewhere beside you. I'm drawn to you; I'm caught in you."

Be My Hero

"I want something; I want everything; I want nothing, nothing else. I want someone, not just anyone; be my hero. See how we measure feeling from a distance? See how we measure people into zero?"