---
Editor's Note: Respected researcher and author Paul Hoch was among the first to comment on the issues related to the "Raleigh Call," and specifically to the provenance of Mrs. Treon's telephone slip that surfaced in the Chicago lawsuit. Hoch's initial thoughts were framed in a think piece he wrote in 1970, which is posted on this web site. Almost exactly 10 years later, with the results of the House Select Committee investigation having been published, he reformulated some thoughts in an essay entitled "A Few Questions on the Raleigh Phone Call." That essay is reproduced in its entirety below, with the author's kind permission. -- G.Proctor

A FEW QUESTIONS ON THE RALEIGH PHONE CALL
by Paul L. Hoch

July 15, 1980
I haven't had the time (or, until very recently, the inclination) to study all the material now available to me on the alleged phone call from Oswald to John Hurt.
I think that any explanation must take into account the fact that the slip prepared by Mrs. Treon contains two phone numbers, for two different John Hurts in Raleigh.
First question: were these numbers really both unpublished in 1963? The House Committee thought so. I'm surprised - I didn't think that a large fraction of phone numbers were unpublished. In any case, this should be checked. (Were there any published John Hurt numbers in 1963??)
I am still leaning towards the scenario in which a slightly peculiar person with no connection to Oswald tried to call him at the jail. In this scenario, one possibility is that when Mrs. Treon picked the scrap of paper associated with an earlier incoming call out of the wastebasket (and erroneously believed it was related to the outgoing call Oswald had just attempted), that piece of paper contained only the information "John Hurt, Raleigh NC" and no phone numbers. Mrs. Treon may then have gotten the two phone numbers from the Raleigh operator. (Presumably, she would have been able to get unlisted numbers.)
It seems that Mrs. Treon's original story involved picking up the scrap of paper and transferring the information; she later indicated (to the HSCA) that she had been in on the call herself, and the scrap of paper has disappeared from the story. This doesn't do much for her credibility, in my opinion. If in fact she had gotten the name and city from the scrap of paper, and looked up the numbers herself, she might have decided, later, that she should modify the story to suggest that the numbers came to her attention at the time of the call.
One variant of my 'incoming call' scenario is that Oswald had gotten the message that John Hurt had called, and that he was trying to return the call. In that case, perhaps the Dallas operator would have used the two (unpublished?) Raleigh numbers in an attempt to locate Hurt. (Would operators have done this for a person-to-person call?)
One problem with this hypothesis is that the Dallas Police apparently withheld from Oswald the telegram from Chicago lawyer Harold McDermid, offering his services, so I doubt that they would have told him about a call from John Hurt.
Finally, under the hypothesis that Oswald was making a sinister contact with some relevance to the assassination, is it plausible that he would have known the address and city of his contact, but not the phone number or street? Doesn't seem very likely to me.


Telephone slip from the Dallas jail: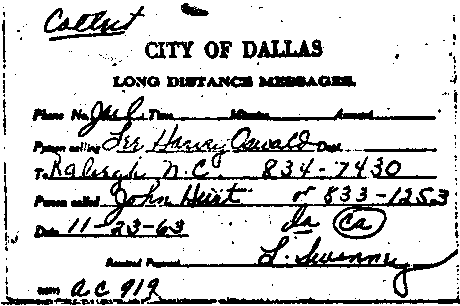 Dr. Grover B. Proctor, Jr. is a historian and former university Dean who is widely acknowledged as an expert on the assassination of President John F. Kennedy. He has published numerous articles, lectured extensively, and has frequently been consulted by print and broadcast media.
While most of his work comprises analysis and interpretation of the assassination research phenomenon, he broke new ground in the investigation in the early 1980's with his work on Lee Harvey Oswald's alleged telephone call from the Dallas jail to a former military counterintelligence agent in Raleigh, N.C.
These documents have been collected and are being shared purely as an educational service to benefit historians and researchers who have an interest in this subject matter. Use of all materials is intended to fall under the "public domain" and/or "fair use" protection of U.S. copyright law, and they are reproduced for no purpose that involves monetary gain
PAGES & SITES OF INTEREST TO VISIT

THESE ARE NOT PAID ADS. WE JUST SUGGEST YOU WILL LIKE THE SITES.


All content ©1995-2012. All rights reserved.