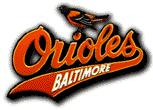 "Heh bet dem Oze, Hawn!"

Brady
Anderson

Mike
Bordick

Jeff
Conine

Delino
DeShields

Cal
Ripkin Jr.
And the man himself,
Boog Powell
AL Most Valuable Player, 1970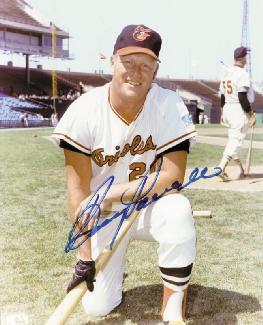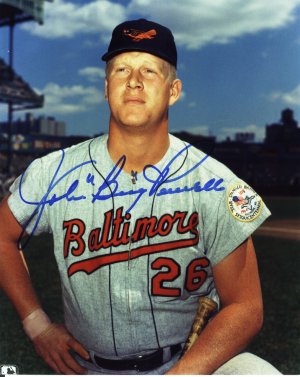 ---
Grover's Orioles Bookstore
You may order any of the Orioles books
which are listed below from



directly from this site.

CLICK ON THE TITLE OR BOOK COVER FOR DETAILS.
Cal Ripken: 2,632 Consecutive Games

The streak has ended, but the record may live forever!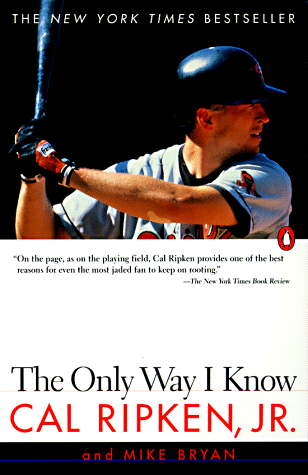 The Only Way I Know
by Cal Ripkin, Jr.
with Mike Bryan
Also available on audio cassette. Read more about this title... "On the page, as on the playing field, Cal Ripken provides one of the best reasons for even the most jaded fan to keep on rooting."
--New York Times review "After the disillusioning 1994 strike, Baltimore Oriole Cal Ripken made baseball seem like the all-American sport again when he played his 2131st consecutive game, breaking Lou Gehrig's record, on September 6, 1995. His surprisingly introspective autobiography reveals him as an old-fashioned guy who believes in the work ethic and doesn't mince words when assessing the state of contemporary baseball, which in his estimate is driven more by financial considerations than dedication to craft. Ripken's love of family comes across as strongly as his love of baseball."
--Amazon.com synopsis

Iron Man: The Cal Ripkin, Jr., Story
(unabridged audio cassette)
by Harvey Rosenfeld
ready by Ian Esmo
The Ripken Way: A Manual for Baseball and Life
by Cal Ripkin, Sr.
The Ripkin Way: " 'It wouldn't be much of a stretch to say baseball is my life,' observes Cal Ripken, Sr. With almost four decades in professional baseball -- as a player, manager, coach, and scout -- Cal Ripken, Sr., has motivated players in all leagues to reach their best, and has mentored two major leaguers of his own, Cal Ripken, Jr., and Bill Ripken. Ripken, who died March 25, 1999, of lung cancer, has bequeathed to mothers and fathers, boys and girls, baseball players and all athletes a book of insight and advice about life and sports that is very readable, candid and loaded with horse sense." --Amazon.com synopsis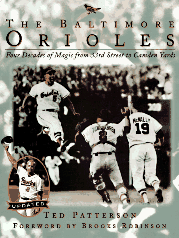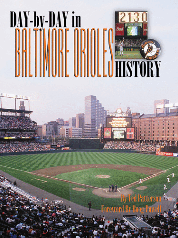 Day-by-Day in Baltimore Orioles History
by Ted Patterson
forward by Boog Powell
The Baltimore Orioles: Forty Years of Magic from 33rd Street to Camden Yards
by Ted Patterson
forward by Brooks Robinson
Day-by-Day: "A complete reference to the history of the Baltimore Orioles' baseball franchise arranged in chronological order, day-by-day. Trivia fans, baseball aficionados, and Orioles devotes will enjoy reminiscing about the glory of days gone by. While not a "picture book" in the traditional sense, Baltimore Orioles: Day-by-Day is more like a family photo album. Five decades of baseball history from Cal Abrams to Cal Ripken Jr. read about the good and not so good days of the Baltimore Orioles. On a particularly good day (April 2, 1976) the Orioles traded to et Reggie Jackson for Don Baylor, Mike Torrez and Paul Mitchell. On a not so good day just eight months later (November 29, 1976) Reggie Jackson signs with the New York Yankees as a free agent. On a particularly good day (October 6, 1969) Jim Palmer scatters 10 hits but gives up only two runs over nine innings to give the Orioles a win over the Twins and the American League Championship. On a not so good day just 10 days later, Baltimore's reliever Watt gives up a World Series winning double to the New York Mets' Ron Swoboda. From Jim Palmer's first game and Brooks Robinson's last, to Frank Robinson's game winning home run in the fourth and final game of the 1966 World Series, to Earl Weaver, Memorial Stadium, Camden Yards, trades and championships, it is all here in Baltimore Orioles: Day-by-Day." --Amazon.com synopsis
The Baltimore Orioles: "This is one of those books you will pull from the shelf again and again. The Forward is by the ultimate third baseman, Brooks Robinson. Ted Patterson is not only a fan but covered the team, and knows just what O's fans want to know. Great photos of the players, the parks, and the action, as well as memorabilia the author has collected over the years!" --Amazon.com synopsis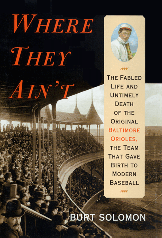 Where They Ain't: The Fabled Life and Untimely Death of the Original Baltimore Orioles, the Team That Gave Birth to Modern Baseball
by Burt Solomon
Read more about this title...
" 'Those who forget the past are condemned to repeat it' is one of those perfect axioms that begs the question, When is baseball gonna finally remember and get it right? Subtitled 'The Fabled Life and Untimely Death of the Original Baltimore Orioles, the Team That Gave Birth to Modern Baseball,' Solomon's splendidly energetic examination of one of the sport's most powerful and storied franchises stands as a fascinating--and cautionary--study of how a team, regardless of quality, can simply implode. And what a team the Orioles of the 1890s was: manager Ned Hanlon and stars Wee Willie Keeler, John McGraw, Hugh Jennings, Wilbert Robinson, Dan Brouthers, Iron Man McGinnity, and Joe Kelley all deserve their plaques in Cooperstown. As a unit, they created 'scientific baseball,' redefining the way the game was played and dominating the National League. Yet, by 1903, to Baltimore's horror and confusion, there were no more Orioles. A series of self-destructive choices successfully conspired to export their best players to Brooklyn and remove the franchise--now a member of the American League and playing in New York as the Highlanders--from the Major League standings for nearly half a century. A fine reporter and writer, Solomon does a remarkable job of bringing the past into the present, exploring how little has changed in terms of baseball business and organizational stupidity through the years. With its marvelous cast of real--and fully realized--characters, Where They Ain't reads as much like a novel as it does like history, and though we know how it ends, it remains an important story worth telling, learning from, and certainly remembering." --Amazon.com synopsis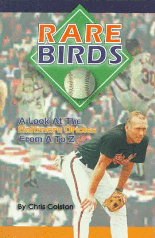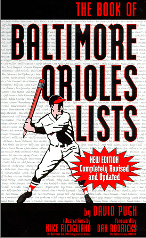 The Book of Baltimore Orioles Lists
by David Pugh
Rare Birds: A Look at the Baltimore Orioles from A to Z
by Chris Colston
Rare Birds: "Shouldn't this be called Amazing.com? They even have THIS book available! Someone please buy it and double my sales! Seriously, this book is more than just seeing Cal Ripken with his hat off. I take you through the rollicking Orioles history, inning by inning (the Orioles end up winning). From the rocking days at Memorial Stadium to the glitz of Camden Yards, from the glorious Earl Weaver era to the current high-salaried Peter Angelos reign, this book gives you a humorous look at one of the most successful Major League Baseball franchises of all time. If you know a Baltimore Orioles fan and you don't have a lot of money, this is the perfect holiday gift." --Chris Colston, author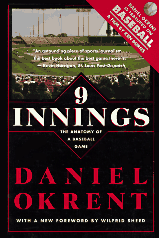 Nine Innings
by Daniel Okrent
Read more about this title...
"Daniel Okrent, the author of The Ultimate Baseball Book, has written not just another windy paean to the national pastime, full of labored metaphors and recollections of demolished stadiums, but a detailed, digressive breakdown of a single early-season game between the Milwaukee Brewers and the Baltimore Orioles on June 10, 1982. Along the way the reader learns about the history of the slider, the building of the Orioles by their famed manager, Earl Weaver, how batters' swings reveal their personality, and even which brand of vitamin C can be found in a certain player's locker. It's a labor of love, but an enthralling one that reveals the complexities at the heart of this most complex and maddening game." --Amazon.com synopsis

| TOP OF BOOKSTORE |
---
Here are some excellent Orioles Web pages you may find of interest: