Identifying Information
Name:
Louise Swinney
Telephone:
214-391-5601
Address:
643 Holcomb, Dallas
Type of Contact:
Person
I showed Louise Swinney, a Xerox copy of the slip containing information on a phone call placed by Lee Harvey Oswald to John Hurt, Raleigh, N.C. on November 23, 1963 and bearing her signature. She stated that it was defintely [ sic. ] not her signature. She was upset that someone had signed her name. She stated that she never handled a call from Oswald to John Hurt. She stated that she only handled a call from Oswald to Lawyer Apt [ sic. ] and another one that she cannot remember, but it was not to John Hurt. Mrs. Swinney insisted on giving me samples of her handwriting and told me that she would have no reason to lie. She stated that only someone working in the switchboard room could have made that out and Alveeeta Treon [ sic. ] was the only other person working that night.
| | |
| --- | --- |
| Signature: | Harold A. Rose |
Telephone slip from the Dallas jail: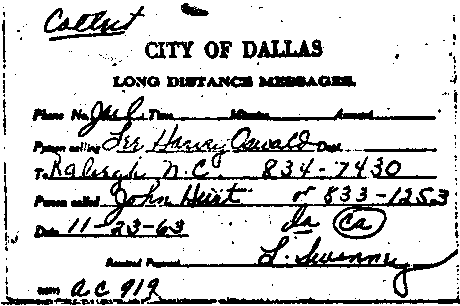 Dr. Grover B. Proctor, Jr. is a historian and former university Dean who is widely acknowledged as an expert on the assassination of President John F. Kennedy. He has published numerous articles, lectured extensively, and has frequently been consulted by print and broadcast media.
While most of his work comprises analysis and interpretation of the assassination research phenomenon, he broke new ground in the investigation in the early 1980's with his work on Lee Harvey Oswald's alleged telephone call from the Dallas jail to a former military counterintelligence agent in Raleigh, N.C.
These documents have been collected and are being shared purely as an educational service to benefit historians and researchers who have an interest in this subject matter. Use of all materials is intended to fall under the "public domain" and/or "fair use" protection of U.S. copyright law, and they are reproduced for no purpose that involves monetary gain
PAGES & SITES OF INTEREST TO VISIT

THESE ARE NOT PAID ADS. WE JUST SUGGEST YOU WILL LIKE THE SITES.


All content ©1995-2012. All rights reserved.