Churches of God Page

Click Here for information on Christian Educational Ministries.
RETURN
TO TOP


RETURN
TO TOP


RETURN
TO TOP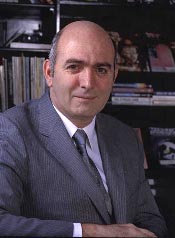 DR. SAMUELE BACCHIOCCHI
(1938-2008)
Presented here is a series of essays from the late Dr. Samuele Bacchiocchi, formerly Professor of Theology and Church History at Andrews University, who was widely acknowledged as the greatest scholar and author in the SDA church in his time. Even when I disagreed with his conclusions, I had (and continue to have) only the highest respect for his scholarship, erudition, and integrity. He is sorely missed.

In a 1998 letter to the church concerning the Christian Sabbath and the Lord's Day, Pope John Paul II advocated that Christians strive to ensure that civil legislation respects a "duty to keep Sunday holy." As a service to its readers, WATCH:JERUSALEM newsletter has reproduced both the Pope's letter in its entirety, as well as a rebuttal by Dr. Bacchiocchi.

Endtime Issues

Sabbath vs. Sunday

The Sabbath

The Holy Days and The Law: General

The Holy Days: Passover

The Holy Days: Pentecost

Marriage and Divorce

The Marriage Covenant: Commitment, Conflicts, Commandments

Women in the Church

The Catholic Church

The Worldwide Church of God

Miscellaneous Biblical Issues


FROM SABBATH TO SUNDAY
A Historical Investigation
of the Rise of Sunday Observance
in Early Christianity



RETURN
TO TOP

PAGES & SITES OF INTEREST TO VISIT

THESE ARE NOT PAID ADS. WE JUST SUGGEST YOU WILL LIKE THE SITES.

RETURN
TO TOP

All content ©1995-2012. All rights reserved.