Like most of you, we were glued to the television (CNN, ABC, PBS, Fox, etc.) watching the New Year roll in across the time zones on December 31, 1999.
Some of the images will stay with us a long time. We thought we'd store some of them for remembering in the coming months and years. Feel free to join us, but be patient--there are several photos here, and it may take a while to load!
Here's to a safe, peaceful, and prosperous New Year, full of joy, happiness, and love for us all!
| AUSTRALIA | CHINA (GREAT WALL) | LONDON | PARIS | WASHINGTON |
GREAT WALL OF CHINA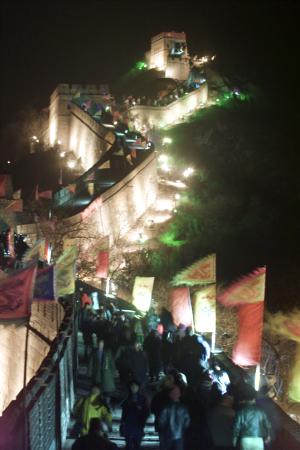 Can you imagine what it would have been like to see the year 2000 in standing on the Great Wall? This is the part of the Wall that Grover climbed last September, near the city of Badaling.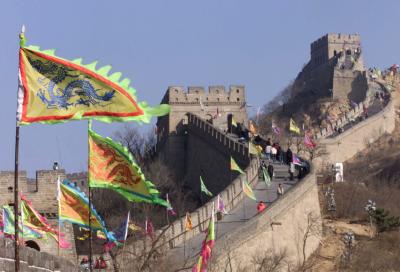 Above is that same section, decorated for the New Year's celebration, in daylight.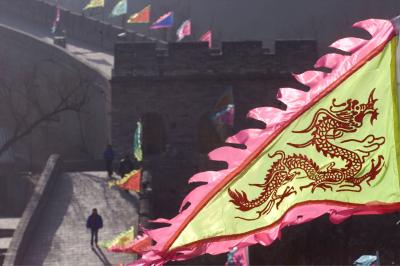 Above and below are two close-up photos of the flags they used to decorate the wall.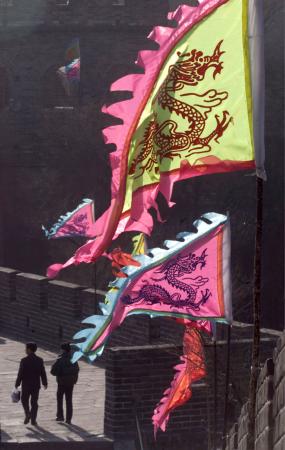 | AUSTRALIA | LONDON | PARIS | WASHINGTON |
LONDON


Brilliantly beautiful bouquets of fireworks over the river Thames--truly the most impressive and massive set of pyrotechnics the whole day. Below, Prime Minister Tony Blair inexplicably (and with seemingly no sense of protocol or decorum) grabs the Queen's hand and rocks her back and forth during "Auld Lang Syne." Even though Prince Phillip is smiling, the Queen looked dinstinctly uncomfortable. Shame, Tony!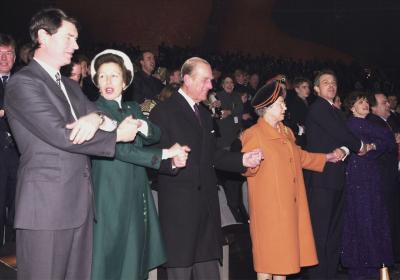 | AUSTRALIA | CHINA (GREAT WALL) | PARIS | WASHINGTON |
PARIS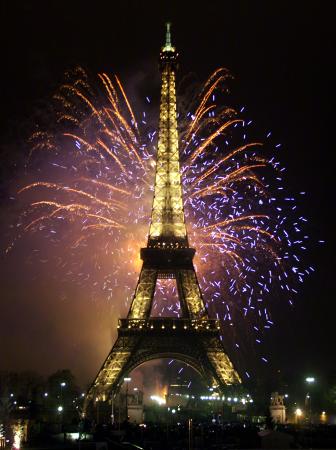 Surely the most artistic, exquisite, and beautifully breath-taking fireworks were those at La Tour Eiffel in Paris! We were truly amazed and dazzled by the choreography of light and color.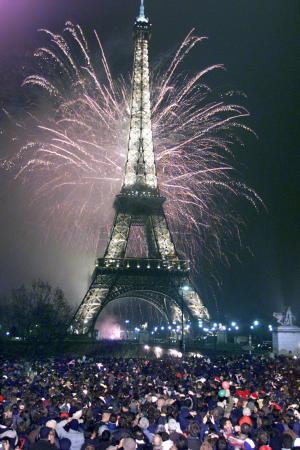 | AUSTRALIA | CHINA (GREAT WALL) | LONDON | WASHINGTON |
WASHINGTON, DC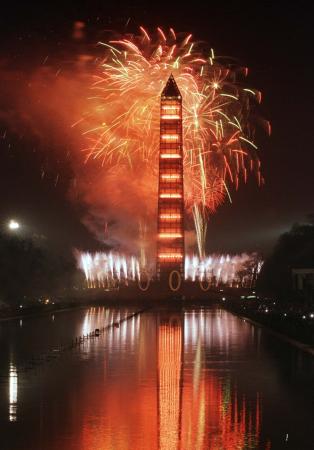 And though it might be a little chauvinistic to say so (in the original meaning of the word!), the sight of the colorful fireworks snaked around the Washington Monument, and shimmering back up from the Reflecting Pool of the Lincoln Memorial, was among the most moving of the day.

| AUSTRALIA | CHINA (GREAT WALL) | LONDON | PARIS |
Happy New Year!
---
|
GROVER'S & ADRIANNE'S HOME PAGE
|
All content ©1995-2002; All rights reserved.